What is the right time to start investing in stock market?
The best time is today; an even better opportunity was yesterday. No one can say what's the best time to invest in stocks because market trends are in accordance with domestic and global growth factors. You should know that if you have to start investing, start now.
Many women have a Demat account but invest as suggested by any family member. Some of those I interacted with felt that investing in the stock market requires colossal capital and expertise. So, here's your bubble buster ladies. Investment in stock markets can be as low or high as you want. Even from Rs. 10/- though I suggest you invest some more to cover associated expenses. Coming to the expertise required, there are two modes of earning potential from the equity market.
First is a long-term investment where you buy stocks at a reasonable price (more on that later), put them in your Demat Account, and forget (not literally, though). Second is intraday trading where you buy or sell stocks daily and settle the incurred profit or less on the same day.
While trading requires expert-level skills and practice to earn substantial profits, the former requires a Demat account, some patience, and the right choice of stocks.
Table of Contents
What Can Stock Market Offer You?
According to a study over the last 37 years, the average annual return on investment (ROI) in the Indian stock market is 19.7%. If you invest Rs. 1000 today you can expect a profit of Rs. 197 by next year. Right?
Wrong!!
The estimate of 19.7% is absolute. Considering some years are better performing than others, you can achieve higher returns by staying updated with local and global financial and geopolitical clues. For example, the best year in terms of return (119%) was 1992. That was the year of the famous Harshad Mehta scam. The lowest returns were earned in the year 2003 when they turned negative amounting to -37%. So, investors actually lost their capital.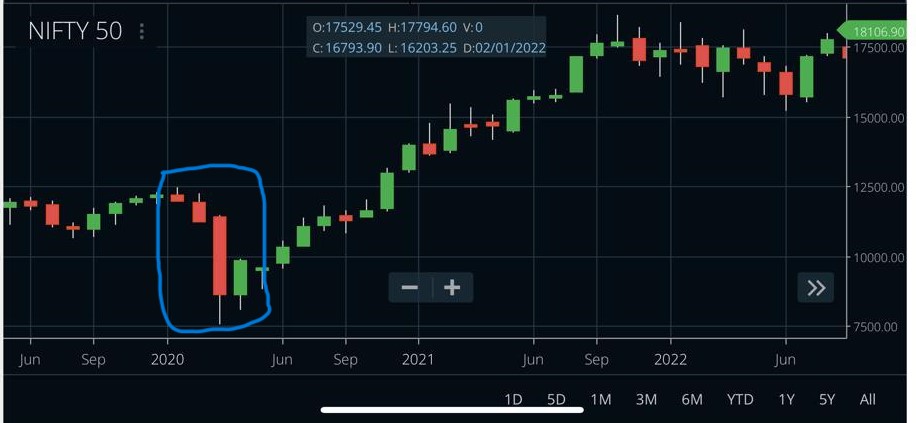 By being vigilant and proactive of the affecting factors like scams, recession, or the pandemic, and investing in quality stocks, called the blue chip stocks, you can earn handsome profits while protecting your capital during turbulent times.
Besides, the stock market is one of the few sectors where you can earn money even in the fall. Short-selling, a part of intraday or futures and options, allows you to sell the stocks in the falling market and earn profits. More on that later when you are an expert in the market.
Can I start investing in Stock Market with Rs. 10?
There is no compulsory minimum amount to start your stock market investment journey. Most brokers offer a zero-balance demat account now. But you must maintain a sufficient balance to pay AMC and brokerage charges. Also, don't let a huge amount sit idle in your Demat account. You don't earn any interest on unused balances. Moreover, transferring money to your account is simple and instant.
Fun Fact: The lowest-priced stock listed on BSE is Kretto Syscon Ltd with a 52-week low of Rs. 0.56. You can purchase even a single share, although such penny stocks are not advised due to the high risks involved.
How to Maximize Your Returns in Stock Market?
When we start investing, we want to maximize our returns irrespective of the instrument. There is a little (read 'nothing') you can do to earn more with fixed deposits, sovereign gold bonds, or corporate bonds. However, you can maximize your RoI in the stock market. Curious to know how? Let's serve you the treat.
-Study market trends and stock movements for a couple of days before putting in actual money. You can also try paper trading (simulated trading) where you can feel the impact of buying and selling stocks with paper (fake) money.
-Always invest when the markets have experienced a dip in pricing and attained a plateau in pricing. For example, from Jan 2020 to March 2020 (the infamous advent of COVID-19), market indices, Nifty 50 fell from 12500 to 7500. A whopping 40% fall was an investor's nightmare. However, April 2020 came with some relief and markets started to recover. While investment at this point was risky; those who did saw double returns within a year. You need to identify such opportunities and follow the next pointer to maximize your RoI.
Buy Dips to Maximize Returns in Stock Market
-A systematic investment plan (SIP) works great when you have long-term investment goals. For example, if you want to invest Rs. 50,000 in equity markets you can distribute the amount monthly, half-yearly, or quarterly. This way, you can average out your buying cost of the stocks. Even if you buy a stock at a high price one time, you can bring back its cost by buying the rest at a lower price.
-Once you start buying stocks and get comfortable, try to learn a few fundamental and technical concepts that define price actions. No need to buy expensive courses or join paid social media groups. Listening to financial news and some brilliant vloggers (Free, Free, Free) allows you to gain basic insights into the stock markets.
-You should set your return goals and stick to them. For example, you may be aiming for a 20% profit from your investment or planning to keep the money for 5 years. Once your targets are achieved, make sure you take an exit and strategize your investments again. Remember, greed is bad and something is better than nothing.
Bonus Pro Tips
*Always consult a SEBI-registered investment advisor. In this fast-paced digital world, many self-proclaimed 'Stock Gurus' claims to put your money to work for you. Had it been so easy, everyone could have done it. What do you say?
*Even if you are availing of research services, keep an eye on the market movement periodically and take appropriate action if needed.
*Always protect your Demat account from hackers and phishing attacks. Most incidents happen to accounts with longer dormancy. Read more on how to protect your Demat account from hacking.
*Always add a nominee to your Demat account.
Do comment and tell me if you would like to read about how to invest in the U.S. stock market from India. Stay tuned for an upcoming blog on how to invest in stock market for beginners by subscribing to my new blog post alert.
Risk Disclaimer: Stock markets investments are subject to market risks, read all scheme-related documents carefully before investing.
Q. Can I earn daily from stock market?
Yes, you can earn daily from stock market after you have gained enough experience. Those who wish to earn daily go for intraday trading.
Q. Which stocks should I avoid as a beginner?
You should avoid high-risk stocks like companies in debt or at high valuations, penny stocks, and extremely costly stocks like MRF currently priced near Rs. 90,000.
Q. What mistakes should you avoid doing in stock market?
*Investing all your money in one stock.
*Buying due to FOMO and panic selling.
*Being greedy.
*Listening to rumors and investing on the advice of anyone.
Q. How long should I stay invested in stock market?
You can stay invested in stock market for the short- or long-term. Short-term may be for 3-6 months.